~Around Newtown, CT Hiking/Skiing Shots~
These are misc. photos from parks around my town, Newtown, CT. This is where I so most of my training and walking and it is in these parks that I spend a good deal of my summer trail running and mountain biking and just hanging out
Note- Click on the thumbnail photo for a full size version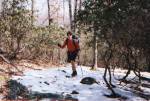 This is a photo of my hiking in Huntingoton State Park which is about 10 minutes away from my house. I am hiking up one of the trails that my friends call the "Tech Trail" because of the fact that mountain biking down it is SO technical and going up on a bike is not feasible. Two of my mountain bike enthusiast friends have gone down it with their full suspension bikes, though. I am way too afraid.
---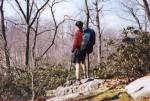 This is another picture of me at the same park taking in the view above the lake.
---
When I decided to hike at Upper Paugussett State Forest, the trail I wanted to hike was closed for the winter due to the fact that, because it borders Lake Lillinonah much of the way, it tends to be extremely icy and dangerous. However, like Tom Cruise in Risky Business, sometimes you just have to say what the...well you can fill in the rest. Note that I would never hike on closed trails if it posed a serious danger to myself or if, by doing so, I would harm the trail in any way. That is just not cool. Not cool at all.
---

This photo shows the trail conditions at Upper Paugussett pretty well.
---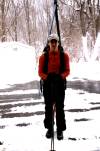 These photos show me about to head off on a 2 mile walk to a local hill (actually on one of our golf courses) to telemark ski. I loaded up my pack with my ski boots, my skis, clothes, and a lunch and went walking.
---
At the golf course, I had lunch under a tree at the top of the hill.
---